Great news – we've been shortlisted for another award!
We entered the 'Ecommerce Software of the Year' category at the UK Ecommerce Awards 2022 in collaboration with UK Furniture company, Sofology, who rolled out our Visual Bundles and Room Creator technologies across their site.
Find out more about the Hullabalook ecommerce technology implemented on Sofology's site.
Sofology's Ecommerce Technology Requirements
Sofology came to us with a list of objectives. They needed an innovation that would:
Save their customers time.

Aid visualisation of products.

Make cross-category shopping easier.

Enable better conversations with shop assistants in-store. 

Increase revenue per user (RpU). 
It was also important to Sofology that once built, this enhanced customer experience could be deployed across multiple touch points of the sales funnel. We knew that our Room Creator and Visual Bundles experiences would be the perfect fit. Here's why:
Cross-Selling With the Room Creator 
Shoppers often find it difficult to visualise furniture online because they can't imagine how big products are, how multiple products work together or how they will look in their home. Currently, making this purchase decision online requires a lot of time and effort. Shoppers need to open several product display pages (PDPs), inspect product details, cross-check this information and mentally visualise how products will tie in with their personal design schemes.
Hullabalook's Room Creator solves this problem for retailers. Sofology's product catalogue is instantly loaded within the Hullabalook experience, so customers can toggle between different categories without the need to open several new pages. Each product has been converted into 2D 'stickers' which are automatically scaled, so shoppers can tell how large a sofa is compared to a footstool or coffee table.
Shoppers can customise their canvas to replicate their wall and floor colours at home, before adding as many products as they like. Once their designs are complete, they can add all items to their basket in just one click.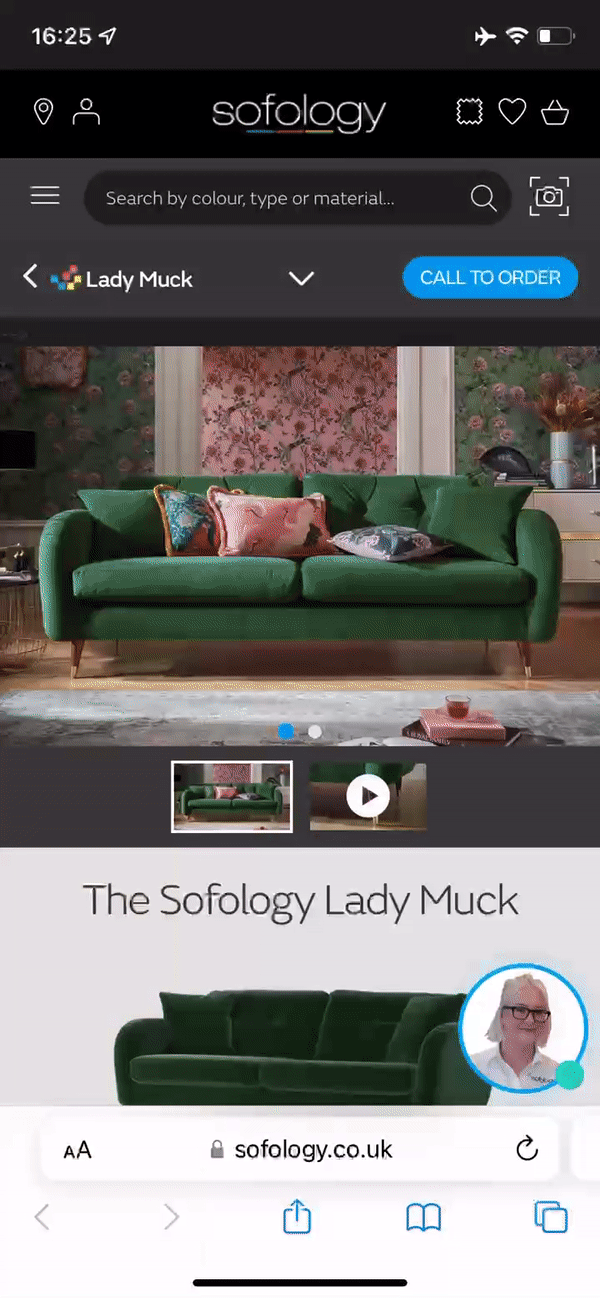 Increasing Attach Rate With Visual Bundles
Sofology wanted to help validate customer purchases while increasing attach rate. Hullabalook's Visual Bundles automatically generates a lifestyle image featuring a bundle of products which complement the seed product a customer is viewing on a product display page (PDP). 
Hullabalook's unique algorithms and computer vision techniques analyse the seed product a shopper is viewing and automatically generates a lifestyle image featuring products which complement it. 
For example, if a shopper is viewing a particular sofa, Hullabalook's technology analyses its key attributes and produces a bundle featuring the matching footstool and some extra accessories. Shoppers can personalise their bundle by viewing alternative recommended products until they find a combination they like, before adding everything to their basket in one click.
By displaying these recommended products in a room setting, Sofology helps their customers find complementary products and visualise how they look together, with the aim of increasing attach rate and revenue per user at the point of purchase.
Hullabalook's cutting-edge platform uses smart product data enrichment and severless delivery to power hyper-personalised, performant ecommerce experiences for retailers' storefronts. 
Sofology has rolled out several Hullabalook technologies across their retail website. Want to know why? Because:
Hullabalook technology help Sofology shoppers save time
Traditionally, browsing multiple categories on a retailer's site requires a lot of clicks, time and effort. Hullabalook's Room Creator eradicates these things. With all of Sofology's products displayed in one place within one experience, shoppers can spend their time cross-category shopping, rather than feeling fatigued by a complex shopping journey.
Hullabalook technology is easy for all shoppers to use
Hullabalook implements ecommerce technologies that anyone can use, on any device.
Sofology has a varied audience – they need to engage with people of all ages and backgrounds, so simplicity is key. They need to provide ecommerce shopping experiences that are easily understood, whether you're tech-savvy or not. 
Room Creator and Visual Bundles were built with this in mind. They are both incredibly intuitive, can be accessed on any device and work whether you're scrolling on the sofa, on the bus, on a laptop, or mobile. 
Hullabalook technology is smart provides hyper-personalised shopper experiences 
Sofology and Hullabalook believe in providing unique shopping experiences which show customers products they actually want to buy.
Hullabalook's technology doesn't make any assumptions when it comes to buying habits – their shopping experiences react instantly to customer choices thanks to our Smart Grid technology. For example, if a shopper decides to add Sofology's 'Cordelia' sofa in 'Texas tan' leather to their Room Creator design, the tool will instantly react to this decision and re-rank the product catalogue to feature Cordelia, Texas tan products first, followed by Texas tan products from other ranges. This means the shopper is always shown the best alternatives and are more likely to find a product they like. 
Sofology has many colour variants on offer for their products. So rather than providing the same 5-10 standard colour filters, Hullabalook's colour band within the Room Creator experience enables shoppers to refine their colour search and distinguish between very specific shades such as light grey, dark grey, charcoal etc.
Visual Bundles is equally as smart. It's the only bundling solution to automatically generate a lifestyle image when showing recommended products. It's also the only solution with in-session personalisation algorithms which react instantly to shopper intentions. By allowing customers to personalise their bundle and ensuring products are never out of stock, Sofology and Hullabalook are increasing the likelihood of purchase. Essentially, they're turning product listing pages (PLPs) into up-sell and cross-sell opportunities that actually work. 
***
If you enjoyed reading this and want to find out more about our technology, we'd love to hear from you.