We've seen huge appetite for our Room Creator, with customers like Dunelm, Habitat, COAT Paints and Heal's all adopting it. What makes it so special? Why is it working so well for retailers? In this article we'll share six reasons why retailers love our Room Creator experience, but there are plenty more – we're just scratching the surface here!
1. It makes them money!
You invest in technologies to drive sales, and that's exactly what the Room Creator can do for you. 
We guarantee that all of our solutions generate 10-80X ROI. We've proven that shoppers who use Room Creator are more likely to add more products to their basket (we increased AOV by 44% for Dutch retailer fonQ). Customers who deploy Room Creator report significant increases in CVR (Sofology saw a 39% uplift in CVR), RpU and time spent on site.
By providing an interactive, easy to use ecommerce experience, you give shoppers the power to unleash their inner creative and find products they'll want to buy – all while hitting trading targets! 
2. It's a great merchandising tool
A lot of our customers love the Room Creator for its merchandising power.
If you're looking to inspire shoppers with a specific selection of products, you can use our technology to create pre-designed rooms in your own personalised gallery. This gallery page is completely customisable, so you can swap and change rooms whenever you like.
This isn't just a great way to market your best-selling products, it also gives shoppers who struggle with a blank canvas an initial idea to run with. From the pre-designed rooms, they can build their own, personalised collection of products to purchase from your catalogue.
Hullabalook's Smart Grid technology can also be applied to the Room Creator, using AI to further personalise each shoppers' experience.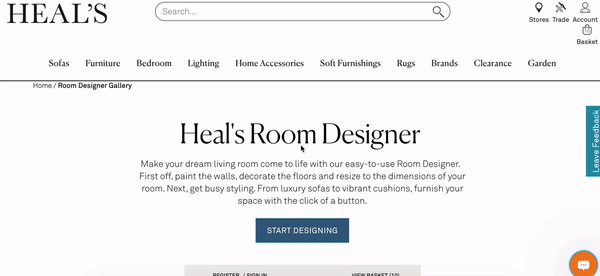 3. It encourages cross-category shopping
Traditional retail ecommerce websites aren't optimised for cross-category selling. There are far too many clicks needed to purchase multiple items during one session, and the clunky navigation makes the process long and boring.
Hullabalook's Room Creator eradicates this problem. Instead of clicking through to multiple category pages, we can transform your product catalogue into 2D 'stickers' which are all loaded instantly within the experience. Shoppers can browse through different product categories, visualise products together and create their favourite designs. All of their product choices are added to a shopping list, which can then be purchased within one click.
4. It's a cost effective way of creating semi-realistic room settings
The better shoppers can visualise your products, the more likely they are to purchase them. Room Creator gives them the ability to design their own space in real-time. For example, we all know buying paint online is a pain because we have to imagine what colours work well together, and how they will look on our walls at home. By using Room Creator shoppers can select different swatches and see our semi-realistic walls changing colour accordingly as they play around with the experience. 
Offering this sense of realism can really help shoppers make better purchasing decisions – and doesn't require investment in more immersive VR technologies (which aren't always accessible to the vast majority of shoppers) or expensive 3D product models.
See how COAT Paints use the Room Creator to sell their range of paints →



5. It can be used on any device, anywhere
At Hullabalook, we strongly believe that technology should enhance people's everyday lives. Great technology should be so intuitive that anyone, on any device, in any location can use it.
The Room Creator belongs firmly in this technology bracket. It's easily understood by shoppers, it doesn't require them to have a high spec device – it's a fun, interactive ecommerce experience which can be used by all ages, while watching TV, or even sitting on a bus!
6. It can help reduce returns
Shoppers usually return products they bought online because they look different in real life to how they imagined. How many times have you ordered something online, only to realise it's twice as big or small than you expected?
Our technology helps with ecommerce returns management by driving down returns altogether. The Room Creator automatically scales products to their true size, so your shoppers can see how a wardrobe will look alongside a lamp, or how big a piece of artwork is compared to a house plant before they make a purchase.
Shoppers who are happy with their purchase won't need to return the products.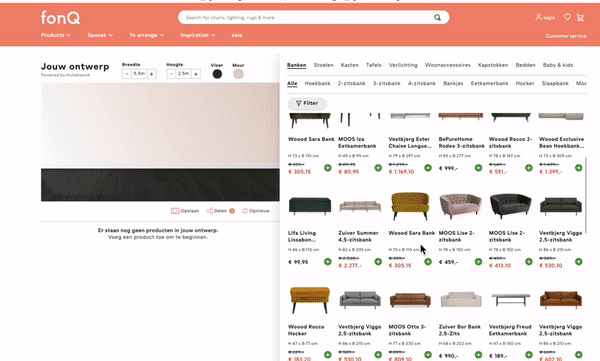 Implement Room Creator on Your Ecommerce Site
Want to implement the Room Creator experience or any other Hullabalook technology on your ecommerce website? Book a demo today to get started: