In our last blog, we explored the different ways Hullabalook customers promote our ecommerce technology across their sites and via social media. We had a great response, and thought it would be worthwhile taking a step back to discuss some of the fundamentals.
So, today we discuss the different ways our retail customers target shoppers during each stage of their purchase journeys, and share some best practices along the way.
Before we can do that, we need to define our target audiences.
Defining Shopper Profiles
Retailers need to engage with lots of different target audiences. Today, we're going to discuss two personas that most retailers deal with on a daily basis. These two shopper profiles are:
Style-based shoppers
Functional shoppers
The Style-Based Shopper
Meet Rory: a style-based shopper who loves to browse new trends.
When this shopper profile lands on your site, they're looking for inspiration. Rory has decided on a sofa they love and would like to find a coffee table and some accessories to complement their living room aesthetic.
Here's what a traditional shopping journey looks like for Rory before he can make a purchase:
Click on the 'tables' and 'accessories' tabs to open two new product listing pages (PLPs).
Scroll through each PLP to view your available products.
Click on each individual product display page (PDP) to find out vital information such as size and colour.
Compare each product and mentally visualise how they may fit together.
Make a purchase decision and check out.
While Rory is pondering their decision, let's meet Mariam.
The Functional Shopper
Meet Mariam: our functional shopper. She's a busy mother of three. She recently moved home and is looking for a sofa to fit a specific spot in her new flat. With children and a dog in the house, she also needs it to be a certain colour (preferably dark charcoal grey) and fabric to help mask any inevitable stains. True to her functional shopper profile, Mariam isn't interested in scrolling through endless pages - she wants a quick and easy experience.
Mariam lands on your website. Here's what her journey looks like:
She clicks on the 'sofas' category and is shown hundreds of products.
She has a few filters to choose from and chooses '3 seater' and 'grey'.
The majority of your sofas are grey, so when she clicks on the filters, she's still shown 100+ results.
She has to scroll through a lot of unsuitable products to find the right one.
She doesn't have time, so gives up after a few minutes.
Re-Imagine the Online Shopping Journey
At Hullabalook, we think about these shopping interactions differently. Our ecommerce technology aims to make these everyday experiences easier, more pleasurable and convert better.
Let's re-imagine these two shopping journeys, as though both shoppers landed on a retailer's ecommerce page powered by Hullabalook.
Rory's experience using the Room Creator
Rory finds the sofa they love on Dunelm's website.
They click on the

 

Room Creator

 

(powered by Hullabalook) and the sofa has been automatically added to a blank canvas.
Using the Room Creator on Dunelm's site, Rory can see Dunelm's entire product catalogue in one place. Hullabalook has transformed Dunelm's products into 'stickers' which Rory can move around the canvas.
Instead of clicking through to countless PLPs, Rory can experiment by adding coffee tables and accessories to the room setting, instantly visualising colours and styles.
There's no need to click on PDP's to find vital information - the Room Creator automatically scales every product, so Rory will know how big the coffee table is compared to the sofa.
Rory can also choose whether he wants to see the room and product sizes in imperial or metric measurements by using the toggle button to switch between the two.
In just a few clicks, Rory feels confident enough to make a cross-category purchase.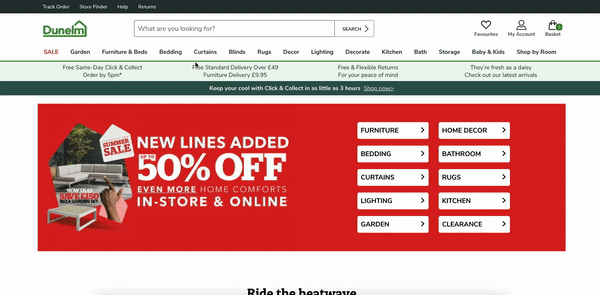 Hullabalook's Room Creator has satisfied Rory's needs as a style-based shopper.
Mariam's experience using Smart Product Listing Pages
Mariam lands on MADE.com's website

 

and is directed to the Sofasizer (powered by Hullabalook's Smart Product Listing Pages technology).
Mariam can drag the Sofasizer to the exact size she needs. She can also input exact dimensions and toggle between the metric and imperial measurement systems, depending on her preference.
She chooses grey on the colour band. Hullabalook's colour technology analyses the MADE catalogue to find the exact HEX code associated with each colour she clicks on. This enables her to be very specific with the shade she's looking for.
Hullabalook's unique algorithms react instantly to her choices, automatically re-ranking the PLP to feature the most relevant products first.
A shopping experience which would typically end in frustration, is completed within a few clicks.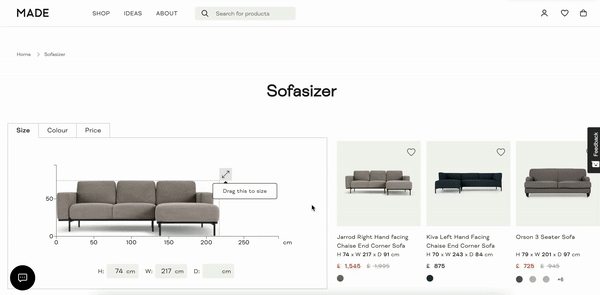 Hullabalook's Smart Product Listing Pages has satisfied Mariam's needs as a functional shopper.
A Solution To Satisfy Your Shoppers' Needs
Everything we build at Hullabalook has some common denominators; our ecommerce technology is easy to use, it's very smart, it enhances everyday experiences and it makes retailers money.
So, which shopper profiles can you identify?!
If you need a solution to satisfy each of your shoppers' needs, find out more about what Hullabalook technology can achieve on your ecommerce site: