If you're reading this, then you're probably a retailer looking to sell more appliances online. Welcome - you're in the right place. 
Before we explain how Hullabalook's software can significantly increase attach and conversion rates, let's introduce ourselves.
We are experts in delivering incredibly quick, engaging storefront experiences for retailers. Retailers who sell appliances invest in our technology because they trust that we will help make them money. But specifically, they usually want to:
Increase exposure of their product catalogue
Encourage attach on their product pages (PDPs) 
Maximise the potential of commercial partnerships with brands
In this blog, we explore these topics, the challenges associated with them and Hullabalook's approach to solving them. 
Retailer request #1: "I want to increase attach rate on my PDPs"
Appliances are very functional, transactional purchases. A large majority of shoppers search for an appliance via Google shopping, and click on the cheapest option. When this happens, the PDP instantly becomes your main store window and your best opportunity to cross-sell.
A lot of retailers include a carousel of 'you may also like…' product recommendations (or bundles) on their PDPs, with the aim of increasing attach. These bundles are often based on generalised user data (such as age, gender, location) - they're not personalised. 
These bundles also make it really difficult to visualise any additional products alongside the seed product, because there's no visual aid. 
Hullabalook's Visual Bundles solves this problem. Our bundles are automatically generated within a lifestyle image. They feature the seed product, plus some additional products with closely matching attributes (e.g brand, colour, price). For context, I'm going to use this Trail Appliances refrigerator PDP as an example: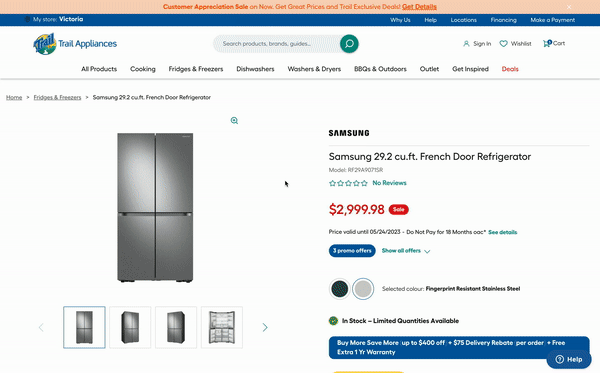 As you can see, I've clicked on a Samsung silver refrigerator. Hullabalook's technology has generated a bundle featuring a Samsung oven and dishwasher, at similar price points, spec and colour. I can visualise the products together and interact with the bundle by swapping in any alternative products. Once I'm happy, I can add everything to my basket. 
Retailers who have implemented Visual Bundles typically see a 2X uplift in attach rate. Trust us, they really work.
Retailer request #2: "I want to improve product discovery, and encourage cross-category purchases"
One of the most annoying things about shopping for multiple appliance products is having to dip in and out of several product pages to check spec and size, while mentally visualising how they'll all look together at home. Introducing Kitchen Builder - powered by Hullabalook's Room Creator - live on Trail Appliances' site.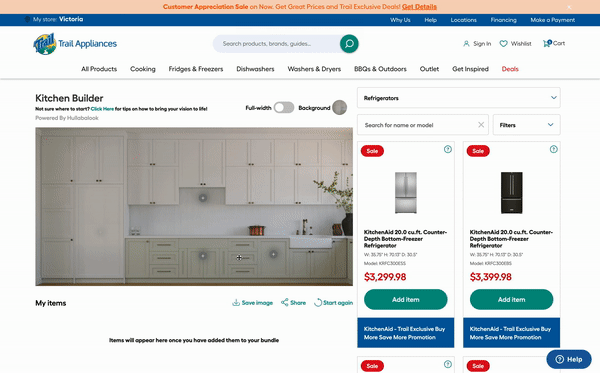 Hullabalook's technology has loaded Trail Appliances' product catalogue on this single page. Instantly, exposure to the wider catalogue has hugely increased. I can navigate seamlessly across multiple categories, and add products to my kitchen canvas. 
The cool stuff happens when I start interacting with the page. Hullabalook's smart grid technology reacts instantly to my behaviour, ensuring that I always see the most relevant products (according to my preferences) at the top of the grid.
So, for example, because I clicked on a black KitchenAid oven, the Kitchen Builder will show me other black, KitchenAid products at the top of the grid.
The logic is: if we make it easy for shoppers to find and buy products they actually want, they will be more likely to make a purchase. Well, good news - it works. Retailers who implement Room Creator increase AOV by 1.63X.
Retailers request #3: "I want software that can factor in commercial brand partnerships" 
Appliance retailers often generate revenue streams from advertising and product promotion. More often than not, this is achieved through ad space, but Hullabalook experiences can also act as an additional supplier monetisation channel.  
How does this work?
We can add sponsored ads or banners within the product grid
Hullabalook can enable a set number of paid ad spaces within the product grid. This content can be controlled by the retailer, and used to encourage clicks to specific content or products. 
We can include 'most frequently viewed' product slots
Featured product slots can be added, to aid merchandising strategies. This could feature a bestseller product or trending products, calculated by our algorithm (e.g products which receive the most clicks within Kitchen Builder). 
We can initialise a Hullabalook experience on a specific brand
If a retailer has a brand partnership they want to promote, Hullabalook can initialise any of their apps to feature that brand first, pre-selecting all filters accordingly. When shoppers move between categories, their initial view will be focused on a single brand. 
Hullabalook builds technology to make shopping online easier for shoppers, and more profitable for retailers. Our technology is architected with this in mind, so you can rest assured that implementing any Hullabalook product on your site will result in better user experience, higher conversion rates and happier customers. 
Interested in learning more about our technology? Book a demo or complete the form below and our team will get in touch.