Selling modular products online can range from tricky to downright painful.
Shoppers struggle to understand which modules are compatible, often giving up completely. And retailers tear their hair out trying to make modular products more 'shoppable' on their sites. 
So how can retailers successfully sell modular products on their ecommerce sites? Retailers who use Hullabalook's Modular Furniture Configurator can expect to see revenue per user increase up to 385%!
In this article, we'll talk more about how our Modular Furniture Configurator technology works, and the results you could achieve by implementing it onto your site.
The Modular Furniture Configurator can be implemented for any modular product type, but we'll focus on sofas in this article. 
Selling Modular Furniture Online is a Challenge
Without using modular product configuration technology that's fit-for-purpose, both shoppers and retailers face challenges.
A frustrating experience for shoppers
When browsing retail sites with a traditional navigation, shoppers have to browse sofa modules on category pages (listing pages), then spend time dipping in and out of PDPs to find information about each one.

Having each module's details scattered throughout PDPs means:
Shoppers don't feel confident that they'll purchase the right set of products online.

Shoppers can't understand which modules are compatible.

Shoppers can't visualise what shaped sofas they can build with the modules available.

Shoppers can't see what the total size of a modular sofa is.

Shoppers have to tirelessly choose each module's attributes on individual PDPs and add each one to basket. As well as patience, this requires an eagle-eye to ensure the same attributes are selected for each module!
These issues prevent many shoppers from ordering modular sofas online entirely.
For those who do purchase online, issues with compatibility, sizing, colour, or fabric are often apparent upon delivery as the product configuration process is prone to human error. The return rate for modular sofas is therefore very high, and expensive for retailers to process.
A complex hurdle for retailers to navigate
Many retailers try to find ways to make it easy to configure modular products like sofas online. But understanding the size and compatibility of each individual module in relation to the other modules – and doing that for multiple ranges of sofas – is a highly complex task. With so many SKUs, devoting the resource to building an in-house or custom solution does not offer retailers a good return on investment.
For retailers who want to increase their modular sofa sales, here's our ecommerce product configuration solution.
The Solution: Hullabalook's Modular Furniture Configurator
Having worked extensively with furniture retailers for a number of years, Hullabalook recognised that finding a better way to sell modular furniture online was high on many retailers' wish lists. So we built a tool – the Modular Furniture Configurator – which enables shoppers to find all module components and fit them together correctly within one application. 
The Modular Furniture Configurator is built into retailers' sites for shoppers to use instantly, without having to download anything or navigate anywhere else.
Once implemented, your shoppers can build custom sofas and other modular products with ease.
See the Modular Furniture Configurator in action on Heal's website →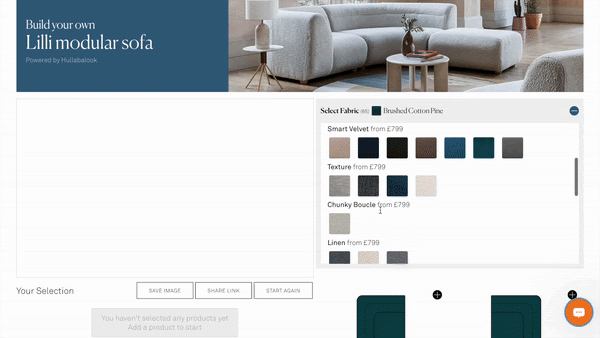 Shoppers piece modules together in the 'sofa area' and personalise the furniture to their taste.

Benefits of using the Modular Furniture Configurator:
Increased modular sofa sales:

Shoppers can see which modules are compatible – in one place – giving them the confidence to purchase online.

Reduced return rate:

The Modular Furniture Configurator only lets shoppers piece compatible modules together. No compatibility mistakes made when ordering means less returns are processed.

No manual configuration:

Modular sofa data is handled by Hullabalook's tech, no manual configuration needed from retailers.

Display endless configurations:

Retailers don't need to photograph combinations of all modules in each colour and fabric – a mammoth and expensive task! The Modular Furniture Configurator enables shoppers to configure and visualise their chosen attributes in 3D, and see the size and shape of it before purchasing.
Making complex product data shoppable
Making complex product data shoppable is what Hullabalook does best. 
Our technology calculates the size and compatibility of each individual module, to know which modules fit together, and which don't. When shoppers use the Modular Furniture Configurator to configure a modular sofa, they'll see which modules 'attract' or 'repel' each other – like a magnet!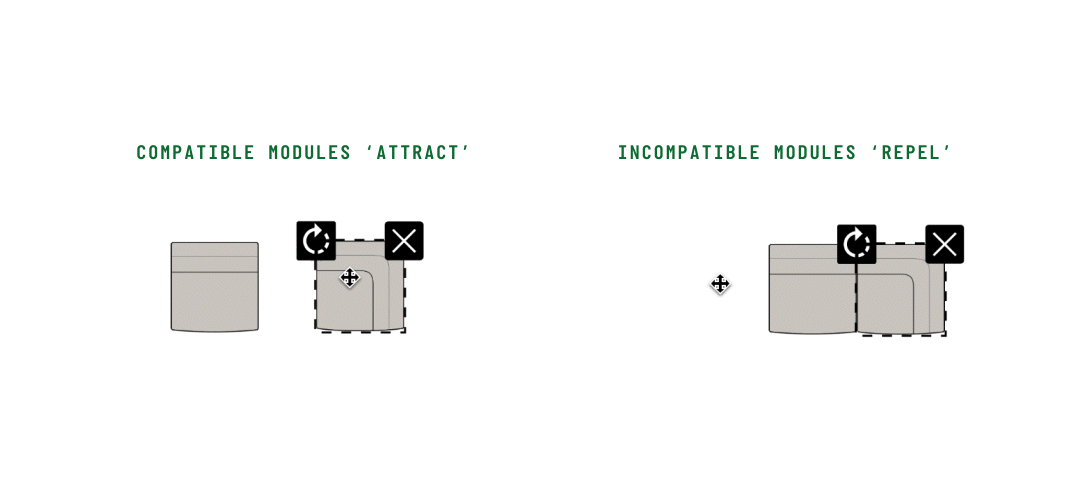 The tech knows which modules can go where. If shoppers add a module to the grid that's not rotated correctly to clip onto another module, it will be automatically rotated.
Each interaction made using the Modular Furniture Configurator is updated instantly. Exact sizing is calculated each time modules are added or removed from the grid, changing attributes such as colour or fabric is instantly updated etc.
All of this is handled for a high number of SKUs, which is no mean feat. The technology behind Modular Furniture Configurator is very complex. But of course – as with all Hullabalook tech – the frontend experience is very intuitive and easy to use.
The Results
Implementing Hullabalook's Modular Furniture Configurator transforms the way modular sofas are sold online.

Take our customer Heal's for example. Here's how the Modular Furniture Configurator impacted their sales:
Transactions per user up 173%  
Average order value up 201%
Revenue per user up 385%
As well as increased modular sofa sales, Heal's shoppers are also spending longer on site, viewing more products, and returning to site more often.
We think the numbers speak volumes. And so do Heal's. After seeing their modular sofa sales increase, Heal's expanded this technology across more ranges. Read the case study to find out more →
Implement Hullabalook's Product Configuration Software
If you're struggling to sell modular products from your eCommerce site, let product configuration software do the heavy lifting for you. 
The Modular Furniture Configurator can be implemented on your site in just several weeks. Hullabalook technology can be integrated into your site no matter which ecommerce platform you're using. We integrate with all the major platforms such as Spotify, Magento, WooCommerce and more.