Welcome back to Hullabalook's tech series. In our last blog post, we explored some of the benefits and limitations associated with headless commerce. We explained that, although a headless approach offers speed and agility, it often comes at a feature-light cost - meaning that your website is super quick, but probably quite basic.
Hullabalook offers the best of both worlds, because our platform reaps all of the headless benefits, while also offering a library of feature-rich components. 
So, what do we call this approach? You guessed it - composable commerce. 
But hang on, aren't headless and composable commerce the same thing? 
Not quite… while both architectures offer flexibility and customisation, they differ in their focus. Composable commerce takes a more pragmatic approach by integrating specialised solutions for various aspects of the e-commerce ecosystem - for example, introducing new 'components' on-site such as product bundles, recommendations, room builders, category pages, review sections (the list goes on!) to personalise the user journey. These components are often introduced to help achieve a specific business goal. For example, retailers often deploy Hullabalook's Visual Bundles on their product pages to increase attach rate, or our Room Creator technology to improve product discovery and encourage cross-category purchases.
Think of composable commerce like an orchestra; you are the conductor, and each instrument (or component) plays according to your tune.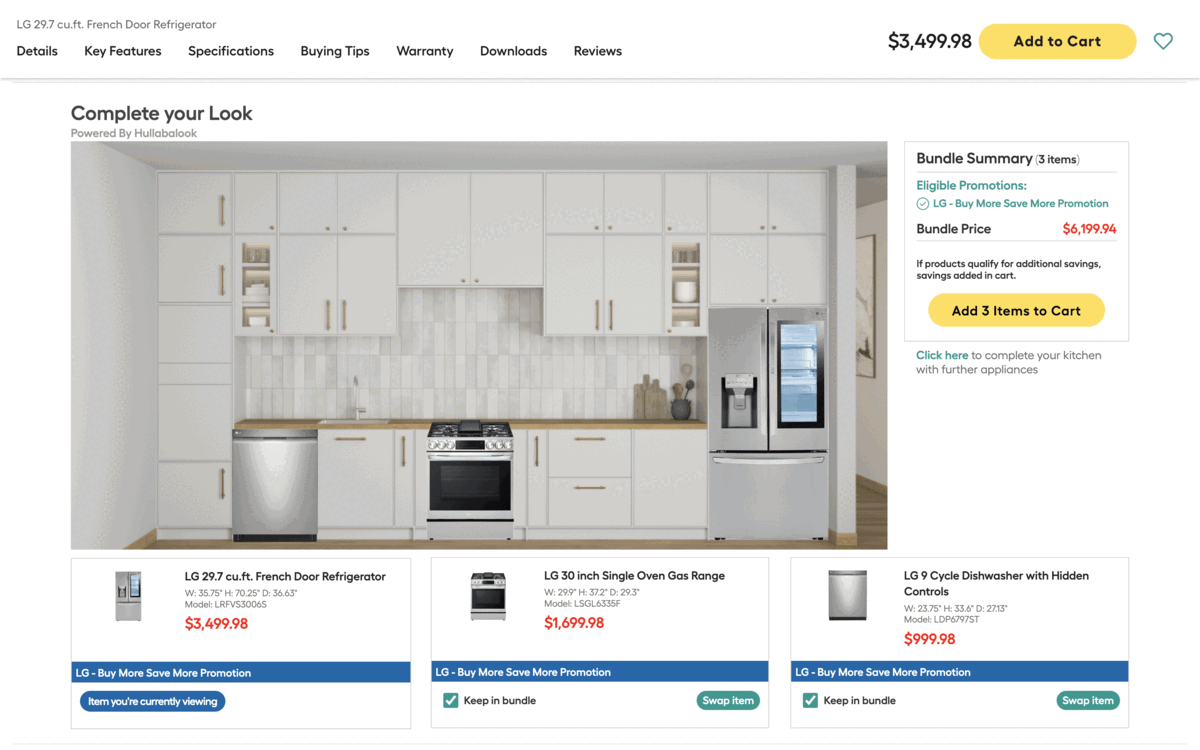 Headless, on the other hand, is often a more idealist approach. It focuses on decoupling the front-end from the back-end, enabling flexibility in user experience and omnichannel support. A lot of technologists push for headless because they believe it's more 'pure' and offers far superior building blocks for design and customisation. 
While this is true, re-platforming demands resources, and isn't always the best option. 
Okay, tell me some of the benefits associated with composable commerce
There are lots of good things to talk about. But let's start with, arguably, the most important.
It's low-risk and high-reward:
One of the main reasons that retailers avoid re-platforming is because they are afraid of the time, money and energy needed to complete it. We think that a composable commerce approach is beneficial because it allows you to make incremental changes that positively impact the business, without soaking up all of your resources. For example, let's say you're running a series of small projects, with the overall goal of selling more products within a specific category. Composable commerce allows businesses to quickly adapt and respond to changing market demands by easily integrating new technologies and services without disrupting the entire system. It also allows you to 'live test' these  technologies - if it's performing, you can keep it, if it's not then you can ditch it. 
It offers scalability, performance and features; i.e it's a triple threat:
The modular nature of composable commerce enables businesses to scale individual components independently, optimising performance and ensuring seamless operations. It also gives you the option to choose the best solutions from a variety of vendors; so you can implement Hullabalook to improve your storefront experience and enhance product discovery, and implement another technology to improve delivery. Talk about innovation! 
If you're interested in finding out more about Hullabalook and how we can help you achieve your business goals - get in touch with us. We'd love to chat.